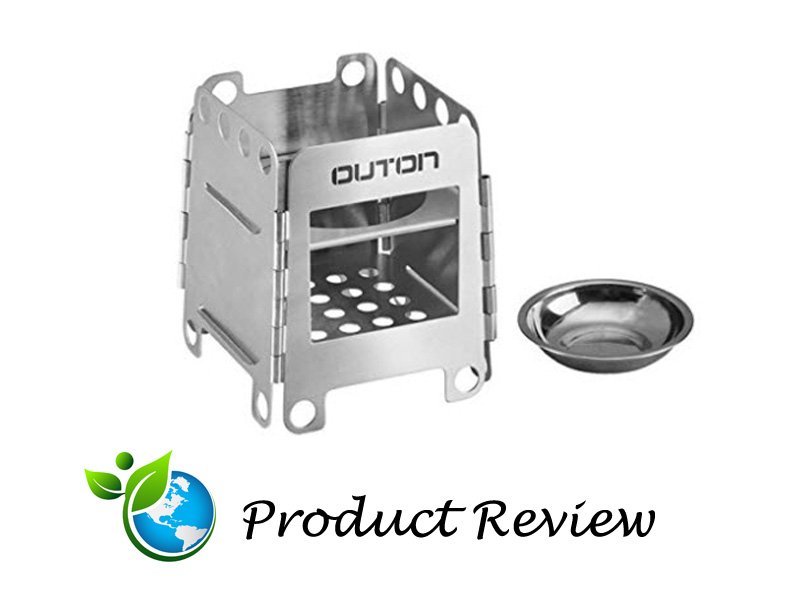 A portable camping wood stove is an awesome piece of outdoor gear to carry with you on your wilderness adventures! These modern lightweight stoves are compact and take up very little room in your pack.
The stove I am reviewing today is the Outon portable camping wood stove, which is available on Amazon at a very reasonable price.
What I Like About The Outon Portable Camping Wood Stove
There are a number of features that make this little portable camping wood stove a great buy.
Easy setup – the stove has a hinged design which makes it super easy to assemble and disassemble in about 30 seconds flat.
Durable material – made of stainless steel, this product will handle your wilderness cooking needs.
Compact and lightweight – even though it is made of stainless steel, it is still light enough (7.2 ounces) to add to your backpack without a second thought. It also folds down pretty flat to save space.
Multiple fuel options – this portable camping wood stove comes with an additional shelf and alcohol dish. This holds alcohol as burner fuel or solid fuel tablets to give you options on different fuels, depending on your preference.
Variable Pot Size Options – The stove comes with cross supports to cater fore different container sizes. Medium size camping pots to a coffee mug fit comfortably on the stove.
Wind protection – the sides of the box design offer wind protection to the fuel being burned in the stove and for the lighting of the fuel.
Good Ventilation – The ventilation holes in the portable camping wood stove provide good airflow. This keeps the wood burning, improving efficiency by ensuring a complete burn of the fuel.
What I Don't Like About The Outon Portable Camping Wood Stove
There a a couple of features on this stove that could do with some improvement.
Warping – the stainless steel is a little thin, and some components warp a little in hot fires. This however, does not impact the function or efficiency of the stove. I therefore consider this a minor problem with this product.
Summary
This portable camping wood stove is good value for money, lightweight, easy to use and I highly recommend it. This stove is a must have for your fishing trip, hiking backpack or survival kit!
Free shipping
Last update was on: January 23, 2020 2:47 pm
MULTI FUEL STOVE: Our small wood burning camping stove comes with a plate(Diameter of Hole: 2.76") for spirit burner and a alcohol dish, you can cook a meal using dried twigs, branches, leaves, coal as fuel. Especially in cold wet weather, solid fuel tablets or liquid alcohol are better choice!
INGENIOUS DESIGN AND EASY TO USE: It's very simple but hinged all around design with card steel plate, just unfold the stove, install two plates and a pin, easy to install within 20 seconds. Big enough to boil water or cook in a small to medium pot, even brewing a cup of coffee.
You may also enjoy our review of the Wise Owl Camping Hammock
Get more posts like this
Subscribe to our mailing list and get interesting stuff and updates to your email inbox.
Thank you for subscribing.
Something went wrong.