How To Preserve Chillies in Oil
Most food plants don't produce yield all year around. If you want to use this produce year round you need to find a method to preserve your crop for use at other times of the year. There are many methods for preserving your excess chilli crop for year round use. Thats where this post on How To Preserve Chillies in Oil comes in!
The method we will discuss here is how to preserve your chillies in olive oil. Although this is a short term storage method, it allows you an alternative which extends the life of the fresh fruit.
You can use other oils for this method, but we have found olive oil to be the preferred oil for this method. The reason for this is that olive oil easily absorbs flavours, adds it own flavour dimension and is a healthier oil for salads and cooking.
Use the best quality olive oil that you can get for this method to preserve chillies. We use extra virgin olive oil.
How To Preserve Chillies In Oil – Preparation
Choose fresh, firm chillies for this method. Don't use any chillies that have started to turn soft or feel mushy.
Wash the chilllies thoroughly and dry them off
Wash your jars thoroughly, and then sterilise them by soaking them in boiling water. This helps to reduce the bacteria that could potentially spoil your chillies. You can use any jars, as long as they can provide an air tight seal.
Dry them in an oven under low heat
How To Preserve Chillies In Oil – Method 1
This method uses the chillies whole and unroasted. Pierce the chilllies in several places with a sharp knife. This allows the oil to penetrate the entire chilli. Place a handful of chillies in a glass jar.
Heat the oil to around 140ºC/285ºF and pour the hot oil over the chillies in the jar. Do not pack the chillies too tight, as this will prevent the oil penetrating the chillies. The heating of the oil is to prevent botulism spores from growing. These spores may be present on the flesh of the fruit.
Allow the oil to cool and then refrigerate. Use the oil and the chillies within 2 to 3 weeks.
This method uses the whole chilli, including the seeds. This means the chillies will retain their heat and infuse the heat as well as the flavour into the oil.
How To Preserve Chillies In Oil – Method 2
This is the method I prefer as I enhances the flavour of the chillies and the oil.
Slice the chillies in half lengthwise.
Roast the peppers on a grill over medium heat until the skins are bubbly and blackened.
Be sure not to overcook the chilles as the bitter carbon will infuse throughout the oil, giving an unpleasant taste.
Allow the chillies to cool. A handy tip is to place them into paper bags and allow them to steam. This helps to loosen the skins.
Remove the shin prom the peppers. Tou can also remove the seeds if you don't want an intense heat.
Cut the flesh into thick strips.
Place the roasted pepper strips to a sterile jar. Pour in enough olive oil to cover, then cover tightly with an airtight lid.
Refrigerate immediately.
Another alternative to roasting the peppers is to use dried chillies. Take a look at our post on 4 Ways To Dry Chillies to give you some ideas.
You can add other herbs and spices to the oil for additional flavours. These can be herbs such as thyme, dill, rosemary, black pepper or any other herbs you may want to try!
How To Use your Oil Preserved Chillies
There are many ways to use your oil preserved chillies. You can remove them from the oils and chop into salads, or use in stir fries.
The chillies can be removed from the oil and ground up in a pestle and mortar. You can then add additional ingredients to make a spicy pesto.
The oil that is infused with the chilli heat and flavour can also be added to various dishes, from stews, to salad dressings. Crush some tomatoes and chopped spring onions (or normal onions), pour in some of the infused oil to make a spicy salsa as a dipping sauce or to go on tortilla's!
There are many other ways to preserve and use your excess chillies. Take a look at our post on 6 Methods To Preserve Your Excess Chillies to find out which other methods you many like to try! One of my favourites is pickled chilllies!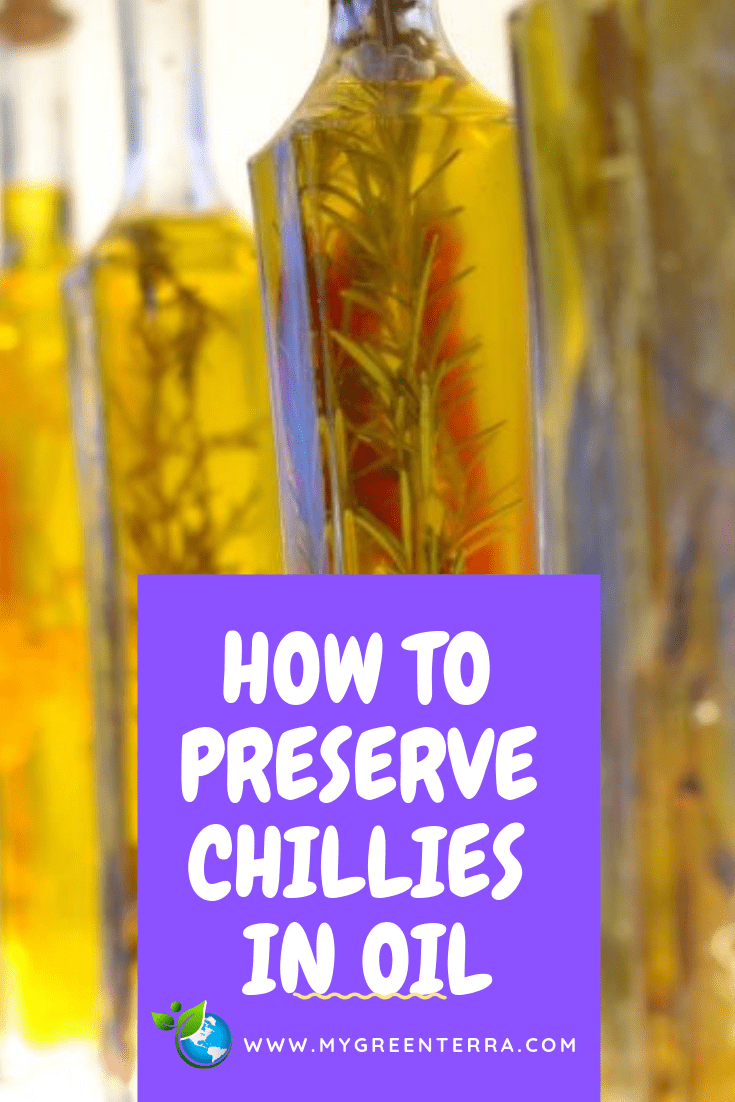 Get more posts like this
Subscribe to our mailing list and get interesting stuff and updates to your email inbox.
Thank you for subscribing.
Something went wrong.