Hybern8 Inflatable Sleeping Pad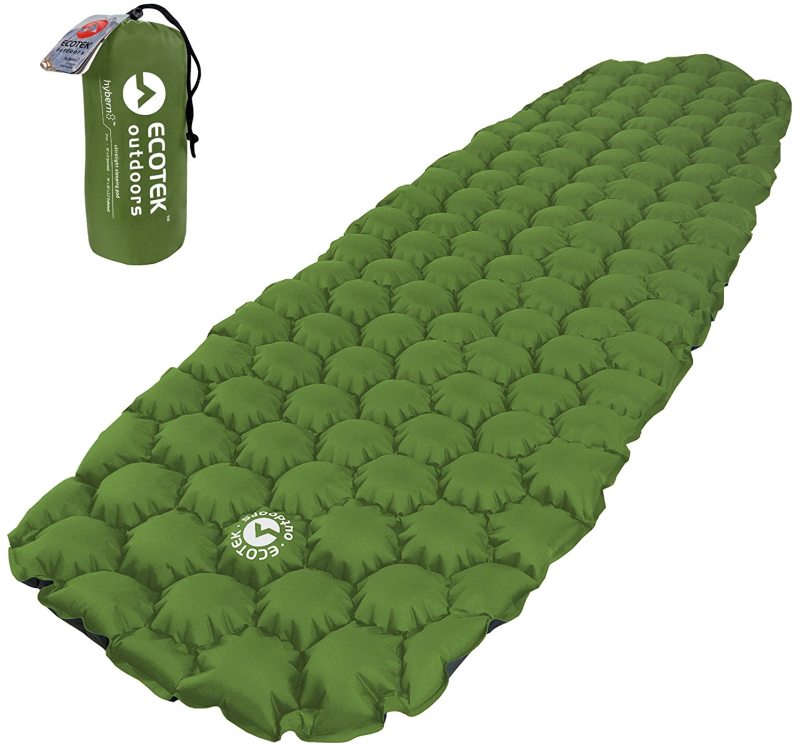 An inflatable sleeping pad is not necessarily survival gear, because lets face it, if you really have to you can do without one. But if you want to have a bit of comfort on your next hiking trail, or while out camping, then this product is for you!
The last thing you want after a long day on the trail is an uncomfortable nights sleep. The features of this sleeping pad are designed to improve your quality of sleep in the outdoors.
Feature Highlights Of The Inflatable Sleeping Pad
EcoTek Outdoors has improved the sleeping pad experience by introducing new features to address some of the traditional problems of using an inflatable sleeping pad.
FlexCell technology reduces heat loss through convection via air currents. This technology makes the cells in the sleeping pad self-isolate and restrict the airflow within the pad. This increases insulation and provides a more stable structure without making the product bulky.
The material is a high quality woven polyester blend which makes it durable and suitable for the outdoors.
The material is slip resistant and weather resistant.
The valve technology has been improved to make the sleeping pad very easy to inflate. You can inflate it completely in 10 – 15 breaths.
Deflating is just as easy and can be completed in under 20 seconds.
The pad is compact and can be rolled into a cylinder approximately the same size as a large water bottle. When folded it is a compact 10 x 3 x 3 inches (25 x 7.5 x 7.5 cm) and weighs in at only 1.13 pounds (0.5kg).
The sleeping pad is shaped to be used either inside your sleeping bag, or placed underneath your sleeping bag.
The inflatable pad is flexible enough to be used in a hammock or even in a chair.
All these features not only make it a great product to take along on your outdoor adventures, but also make it a bargain at the price.
EcoTek as a company has committed themselves to planting a tree for every sleeping pad sold!
---
2 new from $39.95

Free shipping
Last update was on: March 11, 2020 12:41 am
EASY TO USE RAPID INFLATION & DEFLATION - Whether you're setting up camp or breaking it down, the last thing you want is a sleeping pad that takes forever to blow up or pack up. Our innovative rapid one-way valve design makes both setup and stow a BREEZE (less than 10 breaths) unlike any air mattress or sleeping pad you've ever tried. We're confident that the Hybern8 in your backpack will be one of the easiest to use camping accessories you'll ever own.
---
You may also like our post on the Outdoorsman Lab Sleeping Bag.
Get more posts like this
Subscribe to our mailing list and get interesting stuff and updates to your email inbox.
Thank you for subscribing.
Something went wrong.
PROS
Improved insulation
Compact design
Versatile - flexible enough to be used in a hammock or a chair
CONS
It is a little thin when inflated, not raising you much off the ground.