How To Make An Easy Kombucha Salad Dressing
Kombucha salad dressing is a great way to make use of excess kombucha, You can also make it from a batch that you fermented a little too long and it has become a little too vinegary to drink.
Kombucha salad dressing is a healthy alternative, full of probiotic goodness!
This recipe is easy, and you probably already have the ingredients in your kitchen.
If you don't have kombucha, take a look at our post on How To Make Kombucha Tea. Making this probiotic drink is at home is much easier than you think!
Ingredients for Kombucha Salad Dressing
The ingredients for this great tasting kombucha salad dressing are very basic and you should have no problems getting your hands on them.
You will need the following:
1 mason jar or other glass jar to store your salad dressing
¾ cup extra virgin olive oil.
¼ cup homemade kombucha vinegar.
1 tablespoon Dijon mustard or a wholegrain mustard.
¾ teaspoon salt – I use pink Himalayan salt.
1-3 garlic cloves, peeled and finely minced (optional – I don't use it, I am allergic to garlic)
Pinch of basil, thyme, or oregano – you can use dried herbs, or finely chopped fresh herbs
Pinch of finely chopped fresh mint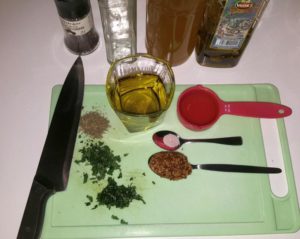 ---
---
Method
The method for making this tasty kombucha salad dressing couldn't be simpler!
Combine all of the ingredients in a mason jar or other glass container. Put the lid on securely (don't learn that lesson the hard way!) and shake the jar thoroughly and vigorously.
It is best to leave your salad dressing to stand for 24 hours for all the flavours to infuse. Store your salad dressing in the refrigerator until needed.
Note: If your salad dressing is not tart enough because your kombucha had not fermented long enough, you can add some fresh lemon juice for some additional acidity.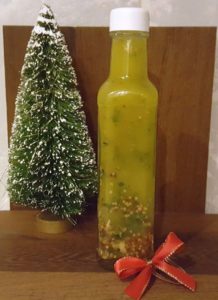 How to use the Kombucha Salad Dressing
This healthy salad dressing is great when used in a tossed green salad or used as a base for three bean salad. It even goes great with pasta salads or incorporated into a meat marinade!
---
Get more posts like this
Subscribe to our mailing list and get interesting stuff and updates to your email inbox.
Thank you for subscribing.
Something went wrong.