How To Walk Barefoot While Wearing Shoes
How to walk barefoot while wearing shoes … sounds a bit contradictory, doesn't it? Modern shoes have been designed with fashion, rather than function and foot health in mind.
The ideal would be to go barefoot every day, but society dictates that that is not acceptable. So how do you conform to society norms while still getting that barefoot experience?
I have the answer for you! Vivobarefoot shoes!
Vivobarefoot shoes allow your feet to function as nature intended as if you were barefoot.
Vivobarefoot have taken into account the physiology and mechanics of the human foot while walking barefoot and incorporated those features into the design of their shoes.
I love my Vivobarefoot shoes and my trail shoes were my go to shoes for day to day life. I wore them till they wore out, and then wore them some more! They finally reached their end of life when I was in a motorcycle accident and they were completely trashed!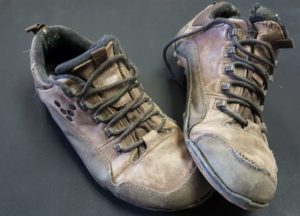 It is time for a new pair! They are the most comfortable shoes I have ever owned and truly give you that barefoot experience! Your feet have space to move and the flexibility of the shoe allows them to move.
Lets get into the key features of these shoes that make them so great!
Heightened Senses
The soles on the Vivobarefoot shoes are thin, but puncture resistant. This allows the myriad of nerves in your feet to feel the surface you are walking on and provide your brain with sensory feedback. You can walk with confidence that you are not going to twist an ankle on uneven ground!
Natural Barefoot Stability
Modern pointy toe shoes restrict your foot to the shape of the shoe, restricting the natural function of your toes to give you balance and a stable footing. This restriction of the toes also weakens the muscles in the foot. Vivobarefoot shoes give your toes the space they need to splay and recoil, operating as nature intended with each step.
Uninhibited Movement
Normal modern, rigid shoes do not allow your foot and its muscles to flex and move. Our feet were designed to feel the surface beneath them and flex to accommodate that surface. Vivobarefoot shoes have this flexibility, giving your feet freedom and putting a natural spring in your step.
A Shoe For Every Occasion
What I like about the Vivobarefoot range is that they have a shoe for every occasion. They make shoes that are acceptable for everyday office wear, trail shoes and boots for outdoor walking, to minimalist running shoes. Vivobarefoot also make styles suitable for both men and woman. The key ingredient in the design of all the varieties of shoes in their range, is that they do not compromise the core principles already mentioned.
This means you can have shoes for any occasion in your daily life, and still be secretly walking barefoot while wearing shoes!
Take a look at our post on 4 Reasons For Walking Barefoot
Get your Vivobarefoot Shoes Today!
---
Get more posts like this
Subscribe to our mailing list and get interesting stuff and updates to your email inbox.
Thank you for subscribing.
Something went wrong.