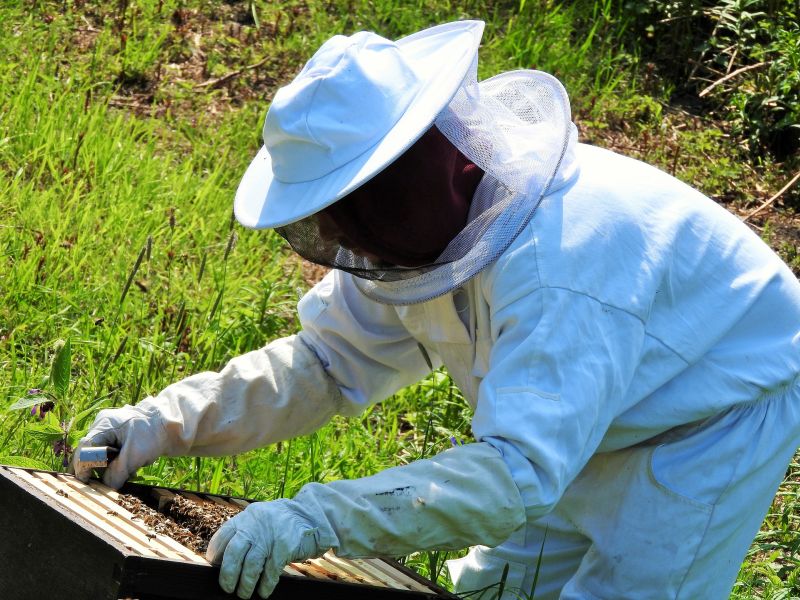 A beekeepers suit is part of the essential gear for a beekeeper, whether you are a beginner beekeeper or a seasoned veteran!
Consider the following tips when choosing a beekeepers suit to make sure you have a safe and comfortable beekeeping experience.
Style
There are a number of styles of suits available on the market, from half suits to full suits, to veils only.
Once you become an experienced beekeeper, you can possibly choose a half suit from a comfort and ease of use point of view. My recommendation for newbies and my personal preference is the full suit for the following reasons:
• It provides maximum body coverage
• The veil is incorporated into the suit reducing possibility of bees getting in
• Your clothes under the suit offer a second layer of protection
back to menu ↑
Fit
The fit of your suit is important. Don't buy a skin tight suit because you want to look sexy while tending your bees!
If your bee suit is too tight, it will give the bees the ability to sting through the suit material where it comes into contact with your skin
When it comes to bee suits, baggy is better!
back to menu ↑
Safety
When choosing your beekeepers suit, make sure it has the following safety features:
The arms and leg cuffs are elasticated
All zippers close completely
Flaps over the zippers, secured with Velcro
No gaps where the veil is joined to the suit
back to menu ↑
Colour
Have you ever wondered why beekeepers wear white suits? The answer is due to function, not fashion! When bees attack, they usually go for dark objects first! The suits white colour is designed to keep the bees calm and not provoke an attack.
Working in a bee suit is also hot work! Dark colours absorb heat from the sun more than lighter colours, therefore, the white colour of your suit also helps keep you cool while managing your bees!
My Recommendation
2 new from $119.95

Free shipping
Last update was on: January 25, 2020 8:52 am
Polycotton beekeeper suit with self-supporting round veil, heavy duty brass zippers, durable double-stitched pockets, and deluxe canvas carrying case
Medium-weight 50% cotton / 50% synthetic blend (280 gsm) provides outstanding protection against bee stings, plus all-day comfort in most weather conditions
Tailored fit with an elastic waist, elastic wrists, and elastic ankles, plus thumb and foot holds to keep everything comfortably in place
Get more posts like this
Subscribe to our mailing list and get interesting stuff and updates to your email inbox.
Thank you for subscribing.
Something went wrong.