How To Make Plantain Salve
Plantain is a medicinal plant with many uses and making a plantain salve for external application is one of the best ways to prepare it for daily use.
To find out more about Plantain and it's uses, take a look at our post Plantain – Weed or Miracle Plant
This preparation uses bees wax to produce a harder salve, more like a butter type of consistency. If you prefer a softer salve, then simply leave out the bees wax.
What You Will Need To Make Plantain Salve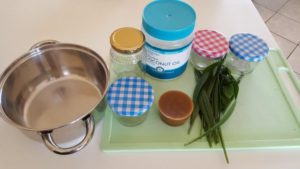 A handful of washed and dried Plantain leaves
113g (4 oz) Coconut Oil
14g (½ oz) Beeswax (leave out if a softer salve is required)
250ml (8 oz) Heatproof jar
Saucepan
Water
---
Method
Firstly, tear the plantain leaves into smaller pieces and pack them tightly in the jar till the jar is half full.
Secondly, add the coconut oil to the jar, then place the jar in a saucepan. Fill the pan with water till half the jar is covered. The next step is to turn up the heat, so place the saucepan with the jar in the water on a stove set to a low simmer. You can now put your feet up for a bit and let the oil infuse for about two hours.
Once the infusion has taken place, the next step is to strain out the plantain leaves. The oil will have a light green colour.
This step is optional, depending on how solid you prefer your salve. I live is a warm climate so I prefer to add the bees wax to make sure the preparation is not too runny in our warm weather. Add the beeswax to the infused oil and put it back into the saucepan on a low heat until the beeswax melts. Once again, if you prefer a creamier, more liquid preparation, you can leave the bees wax out of the recipe.
Finally, pour the mixture into tins or jars and let it cool. It will solidify to a firm texture and become opaque as it cools.
You now have an awesome herbal treatment that you can use for many ailments!
Get more posts like this
Subscribe to our mailing list and get interesting stuff and updates to your email inbox.
Thank you for subscribing.
Something went wrong.