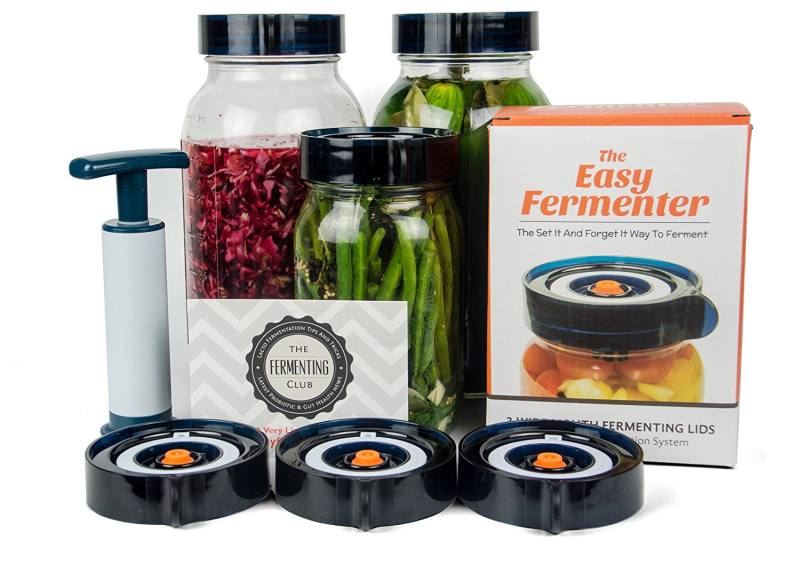 Fermenting foods has been a method of preserving food for centuries! The Easy Fermenter wide mouth lid kit takes the hassle out of fermenting. Fermenting not only preserves food but it is a way to get probiotics – good bacteria – into your gut. Having healthy gut bacteria gives you an immune system boost and improves your overall health!
What I Like About The Easy Fermenter Lids
This product has a number of features that make fermenting simple and easy for everyone!
Easy by name and easy to use. Old style airlock systems can difficult to put together and make storage difficult – problem solved with this product!
The Easy Fermenter lids have a waterless airlock valve. No more chunky airlock systems that need to be water filled!
Lets the carbon dioxide out and prevents oxygen getting in.
Prevents the development of mold – the bane of every fermenters life!
No daily burping of jars.
Easy to store while fermenting due to their low profile.
The built in date tracker in the Easy Fermenter lid helps you easily keep track of the dates for perfect timing of your batches!
These fermenting lids make the fermenting process a simple 3 step activity! firstly chop your veggies and put them in the mason jar. Secondly, add your brine or fermentation liquid such as kombucha or kefir whey. Thirdly, secure the lid, remove the air with the included air removal pump. That is it! A simple set and forget process!
Once your fermentation process is complete, the easy ope tab on the Easy Fermenter lid helps you open the jar with minimal effort.
The price of these lids make this product very affordable and good value for money. The convenience they bring to the fermentation process will make you wonder how you ever lived without them! So don't delay, get your Easy Fermentation lids today!
3 new from $21.99

Free shipping
Last update was on: March 29, 2020 5:33 am
★DON'T SETTLE FOR IMITATIONS - Our waterless airlock valve technology lets carbon escape. But also makes sure zero oxygen can enter. So no exploding jars that need burping. And most importantly - no mold. We have even included a extractor pump to suck out the oxygen during the later stages of your ferments. All this without having to deal with those clunky 3 piece water filled airlocks.
★BUILT IN DATE TRACKER - One of the challenges with fermenting is getting the timing right. Too soon, your batch is salty and raw. Too long it's sour and not eatable. Our date setter keeps track when your ferment started so you always know when it's almost complete.Perfect tasting batches every time.
Get more posts like this
Subscribe to our mailing list and get interesting stuff and updates to your email inbox.
Thank you for subscribing.
Something went wrong.